J. Richard ("Rich") Morris, Jr., DMD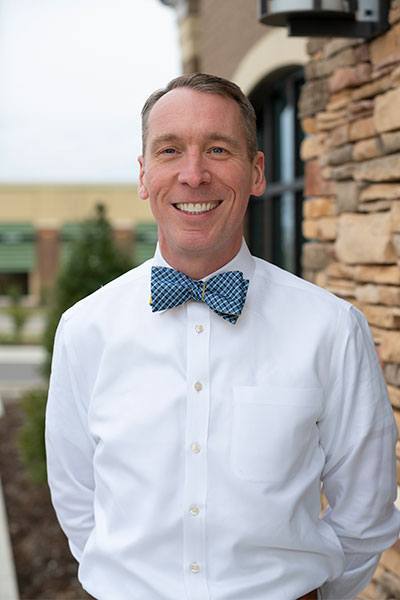 "I feel blessed to have the opportunity to make such a positive impact on the lives of my patients. Helping to create beautiful smiles for people of all ages is incredibly satisfying and there is nothing more rewarding than seeing a patient's smile on the day their braces are removed." – Dr. Morris
Dr. Morris has been voted "Best Orthodontist in Sumner County" in Nashville Parent, The Hendersonville Star News, The Hendersonville Standard and The Gallatin News Examiner on over 10 separate occasions. He has also been recognized as one of the top 5% of Invisalign® Providers in Tennessee and one of the top 10% in the nation. He is able to treat some of the most complex cases thanks to being one of a small number of master-trained Invisalign doctors and his extensive experience in the use of clear aligners. In many cases, he is able to tell a patient that he can help them achieve the smile of their dreams with Invisalign clear aligners when they have previously been told that they were not a candidate for Invisalign treatment.
Utilizing the most advanced technology available in the treatment of his patients is incredibly important to Dr. Morris. It not only ensures that each of our patients finishes treatment with the smile of their dreams but enables Dr. Morris to show each patient their finished smile before treatment even begins. He does this using a sophisticated "smile simulator" that digitally scans each patient's smile to show them their finished smile at their initial complimentary consultation. No more messy impressions!
Dr. Morris is a Vanderbilt-trained orthodontist with a Georgia Tech degree in engineering, and he has drawn upon his diverse background to create a Mac-based digital practice that utilizes cutting-edge technology in the treatment of children and adults. He is the first orthodontist in Sumner County to offer 3D scanning, replacing the need for goopy impression molds and making gagging a thing of the past. He is experienced in the latest orthodontic theories, practices and products, such as Invisalign aligners and lingual (behind the teeth) braces. His approach is conservative, and he will inform parents when their children should delay treatment to ensure the ideal timeframe for orthodontic success. The result has pleased patients from age 7 to 70. Claire Englar, who plays "Violet" on Disney's A.N.T. Farm, wrote to Dr. Morris, "Thank you for helping me achieve a better smile! You have made a huge difference in my life!" He has been honored to treat numerous patients in the entertainment and music industries and is always thrilled to see their smiles bring more confidence to them in their careers.
When Dr. Morris is not working, he enjoys being involved in the local community, teaching a weekly cycle class at the Sumner County YMCA, and supporting local sports and dance teams. You can also find him on the lake, wakeboarding and water skiing in the summer and winter months. He has competed in countless triathlons and marathons and has sponsored several races for children and adults. He is also a proud sponsor of Sumner County Schools, private schools, STEM programs, community fundraisers, and non-profit organizations for children and adults. If you were able to attend the inaugural "Mr. Sumner County" fundraiser, you already know that he has some mad dance skills, too. He is always happy to make others laugh for a good cause.
Education and Experience
Honors
"Best Orthodontist in Sumner County" in Nashville Parent Magazine, Sumner Parent Magazine, Hendersonville Star News and the Gallatin News Examiner on over ten separate occasions
Top 10% of Invisalign Doctors in the nation and Top 5% of Invisalign Doctors in Tennessee
Omicron Kappa Upsilon National Dental Honor Society
The Morris Orthodontics Volunteer Discount Program has been featured in The Tennessean, Fairvue Planation Magazine and various publications. It is an honor to reward our patients who contribute to making our community a better place
President of Dental Class at Medical College of Georgia
Goodchild and Goodchild Scholarship for highest academic average in orthodontics
Invisalign Master-Trained Orthodontist
Professional Affiliations
Father
Dr. Morris and his wife, Deirdre, moved to Hendersonville while he completed his orthodontic residency training at Vanderbilt. They quickly fell in love with Hendersonville and its people, and they knew it was the best place to raise their three children, Sinclair, Marin and Jay.
Dr. Morris' time outside the office is spent with Deirdre and their three children. At night, you can find Dr. Morris with his children at dance, hockey, soccer, baseball, cross country, swim, tennis, gymnastics, lacrosse and more. When he has downtime in his schedule, he loves being on the lake and sharing his lifelong love for waterskiing and wakeboarding with his family.
Community Partner
Dr. Morris truly believes in the difference one person can make and in the responsibility each of us has for giving back. The Morris Orthodontics Volunteer Program has been featured in The Tennessean (the major Nashville paper) twice, The Hendersonville Star News, The Gallatin News Examiner and the Fairvue Plantation Magazine in Gallatin. A $350 reward is offered to patients/parents who volunteer ten hours of service with the church, school or non-profit organization of their choice. He has personally experienced the satisfaction of giving back on a dental mission trip to Guatemala, helping families who lacked access to regular dental care.
Click here to learn more about how we give back to our community.
Meet our team here.